Whether you believe 2010 was a breakout year or re-breakout year for Corey Hart, we can all appreciate his increase in production compared to 2008 and 2009.  In my curiosity on what to expect from him in 2011, I delved deeper into his HRs last year and found reason to be optimistic.
I was especially curious as to whether Hart's hitting statistics could bring to light why he had such an increase in his HR rate.  I came up with a few possibilities at the outset: a change in his swing in 2010, a higher contact rate, or just pure luck.

If he just made contact more, then that would be borne out in consistent rate statistics like HR/Hit.  If he changed his swing, we'd expect different characteristics in his Home Runs.  If it were just luck, then we wouldn't expect to see any systematic differences in his numbers between 2009 and 2010.  Given the multitude of data sources, we can get some data on all of these.

The most straightforward are the rate statistics.  You can find those on any website with standard batting statistics and I'll cite HR/Hit and HR/Balls In Play.  Simply put, the more AB a player gets, the more HR he will hit.

Year    HR/Hit    HR/BIP
2010     0.20    0.074
2009    0.11    0.037
2008    0.12    0.038
2007    0.16    0.059
It's abundantly clear Hart was hitting with more power in 2010 than in 2009 and 2008 so he wasn't simply benefitting from more playing time.

The most interesting data come from Hit Tracker.  Are these data perfect?   No, but they're freely available and I believe they still serve to give us some insight here.  A picture is worth a thousand words so here's the chart of his Speed of Bat and Angle of Elevation numbers from his HR in 2008/2009 vs. HR in 2010.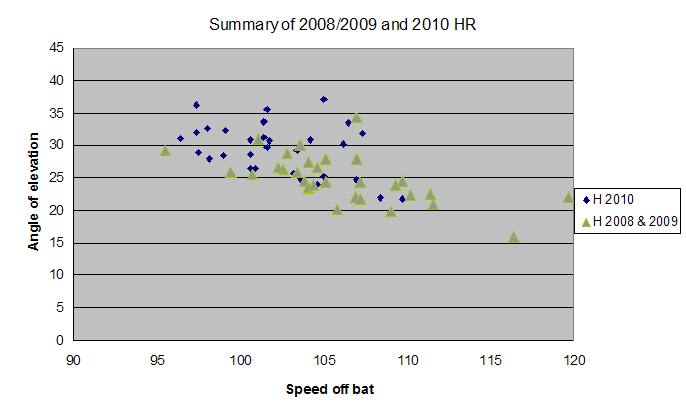 Hit hit 31 HR in 2008+2009 and 31 HR in 2010.  The statistics in the above chart work out to an average of 105.2 mph SOB with 24.9 degrees AOE in 2008/09 compared to 102.2 mph SOB with 29.4 degrees AOE in 2010.  While these numbers are variable from year to year, I think even an exahustive analysis would show both of those numbers to be significantly different.

Finally, Texas Leaguers PITCHf/X gives us his spray chart for 2009 and 2010.  It looks like Hart was hitting for more power to all fields in 2010.  Like most available data, the spray chart isn't 100% accurate, but it gives us enough of a picture to conclude that he had plenty of power to left and "just enough" power to center and right field.
Hart 2010:
 <
Hart 2009:
 <

I think it's safe to say Hart had a marked difference in his approach at the plate between 2009 and 2010.  His 2010 season wasn't just a fluke.  His HR swing now looks like an easy swing intended to make consistent contact, driving the ball especially well to left field.

Corey Hart's final 2011 HR total will depend heavily on his "just enough" vs. warning track shots to center and right field.  If he makes no improvements in 2011, I'd expect to see between 25 and 35 HR.  If he can manage to make another leap, then those warning track shots to right field could start going over the fence.  With a few breaks Hart could even approach the 40-HR plateau.
 
Bonus Content! 
Ryan Braun was hit in the elbow by a pitch on May 10 and played through the pain due, in part, to other injuries in the outfield.  Here are the spray charts for the first 32 games of the season before May 10, the 32 games he played between May 12 and June 16, and the remaining games he played. Blissfully ignorant about small sample sizes, it looks like Braun lost a lot of power after his non-injury injury.  I expect 2009 performance out of him in 2011.
Ryan Braun pre-elbow injury
 

Ryan Braun post-elbow injury
 

Ryan Braun post-recovery
 

McGehee was a softer hitter 2010 than 2009 and had a large number of "just enough" HR.  I think he's a little more likely to see a drop in HR in 2011 than an increase.
There isn't really enough previous data on Weeks to say much other than his spray chart in 2010 showed he had few "just enough" HR.
Prince Fielder saw little difference in the character of his HR between 2010 and 2009 and I couldn't find a reasonable explanation for his drop in HRs other than luck.  I'm hoping that means production between his 2009 and 2010 figures, if not better.
Brewers hitters had 182 HR last year.  I'm going to estimate they inch that up to 190 in 2011 by betting on a healthy Weeks, a contract-year-performance by Fielder and a bounce back year by Braun as well as only a small decrease from McGehee, Gallardo and center field.